What was your biggest breakthrough as a result of the BoldHaus program?
"My biggest breakthrough of all was going from simply having a business — to BEING a CEO. I released all the narratives that no longer serve me about what I "should" do or how I "should" act. I now know that I am not just creating a job, a hobby, or being a business owner. I am a CEO. That shift makes all of the difference in how I show up. Some things you simply have to go through. We often want to avoid things. However, sometimes we have to break down in order to break through. Plus, being a part of the BoldHaus community has brought me opportunities to be a bench member for other people."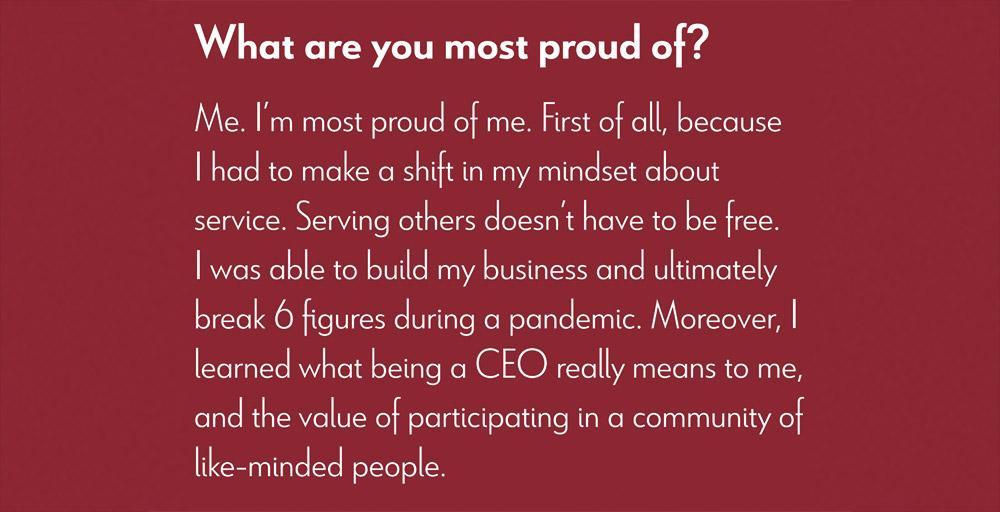 Is there a particular mindset shift you had to make?
"Yes! That I am a worthy investment — whether that means I am in investing in myself or someone is investing in me. I turned research into intentional conversations with leaders, which turned into speaking opportunities, which turned into training and contract consulting with repeat clients."

To download the full case study, CLICK HERE.
To learn more about how you too can work with BoldHaus to increase your revenue while gaining more freedom, go here to schedule a 'Haus Call:

About BoldHaus
BoldHaus is a globally recognized, award-winning provider of training, consulting and mentorship services to help small business owners win corporate and other B2B clients. The company works with small business owners from more than 72 countries worldwide, with a particular focus on consultants, executive coaches, professional service providers, speakers, experts and diversity-owned businesses. Founded in 2010 as The Corporate Agent, the company re-branded in July 2021 to BoldHaus. The company is based in Boca Raton, FL, and is certified by WBENC as a woman-owned company. Learn more at www.boldhaus.com.