You may not think about it much on a daily basis, but there is one thing shaping your future small business opportunities above all else: disruptive technology.
Every generation of technology improves exponentially.
In fact, famed American inventor and futurist, Ray Kurzweil, said: "We won't experience 100 years of progress in the 21st century — it will be more like 20,000 years of progress." 
That means no matter who your clients are — whether it's corporate, mid-market, small business, higher education, self-employed experts, government, nonprofit or something else, the speed of disruptive technology is shaping:
Whether or not your clients will survive or if they'll go extinct; and
What kinds of services, products and/or expertise they need from experts like you.
On this episode of LIVE! with Angelique Rewers, we went behind the curtain with one of our clients who is on the bleeding edge of the disruptive technology evolution in the global business world.
Paul Cuatrecasas is the founder and CEO of investment banking firm, Aquaa Partners, and the author of Go Tech, or Go Extinct: How Acquiring Tech Disruptors Is the Key to Survival and Growth for Established Companies.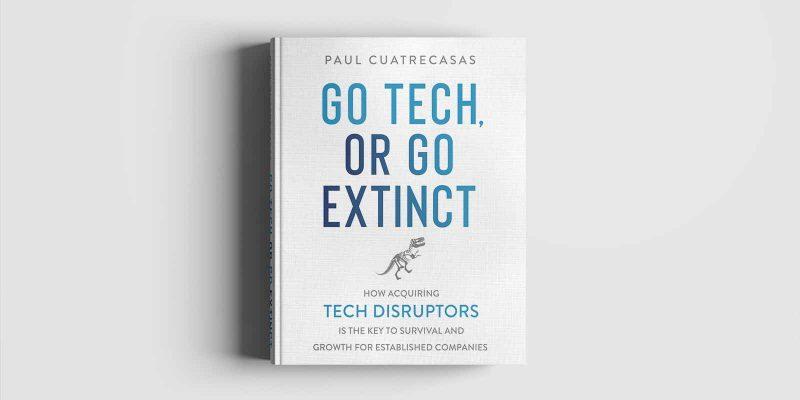 Over the past 30 years, Paul has completed more than 50 merger and acquisition (M&A) transactions around the world worth more than $25 billion, as well as led over 70 corporate finance advisory and strategic consultancy assignments.
And now today his company Aquaa Partners is helping well-known, global corporate brands partner with or acquire disruptive technology companies, so that they don't go the way of Blockbuster, Polaroid, Blackberry or DeLorean.
(Okay, okay. That last one was just to see if you were paying attention.) 😀
If you are a consultant, coach, expert service provider or small enterprise CEO, you'll gain a ton of insights from this conversation — including the types of business problems that are really keeping corporate decision makers up at night.
You'll hear real-world examples of how some of your favorite brands have already started acquiring start-ups with disruptive technology and how that has given them an unfair advantage over their competitors.
This insight can inform everything from your marketing messaging to the content you create to the types of services you offer, including employee training programs that will prepare the workforce to handle the massive changes headed their way.
During the interview, we also got into what it truly takes to tackle a business problem as huge as technology disruption when you're the CEO at the helm of boutique firm like Aquaa Partners. (He doesn't sugar coat it either.)
Last but not least, we talked about some of the specific steps Paul has taken to establish himself as the preeminent thought leader on the topic of disruptive technology — including the creation of his firm's proprietary Techquisition® framework — as well as what his best advice is for you as you LEAD YOUR MOVEMENT™.
You can watch the entire LIVE! episode above.
If you missed the live show, we encourage you to join us for the next one.
LIVE! with Angelique Rewers airs every, Wednesday at 1PM Eastern.
The best way to join us and participate is on LinkedIn.
We are broadcasting from my personal account, which you can find here.
Here are more detailed instructions on how you can watch the show LIVE…
HOW TO WATCH THE SHOW ON LINKEDIN:
Make sure you follow my personal page on LinkedIn, as it is the best way to tune in to the show. We'll be broadcasting from my personal account and, when we go live, you can find the show at the top of my activity feed here.
OTHER WAYS TO WATCH:
Prefer a different platform? No problem. Our simulcast tech means this show is being broadcast on multiple streams at once. Join our Get Corporate Clients group to watch on Facebook, or subscribe to our YouTube channel to follow the show there.