Of all the trends taking place in business right now, one of the most prominently highlighted (and unavoidable, due to COVID-19) is
workplace flexibility
.
Not the kind of "flexibility" policies that are put on paper and handed out with a wink and nod that it's career suicide to take advantage of them — but real policies, practices and a workplace culture that gives employees the freedom they require to meet their personal and professional needs.
While it's well-documented that workplace flexibility is a driver of productivity, engagement, advancement, retention and numerous other bottom-line advantages, there remains a stigma attached to this concept. Many company leaders fear that a flexible work atmosphere will equate to a trade-off for performance.
But nothing could be further from the truth. In addition to many advantages for employees, a flexible workforce benefits companies in myriad ways, such as:
Higher productivity levels
Reduced absenteeism
Lower turnover rates
Improved recruiting / access to a wider talent pool
Decreased overhead costs
Employees who are afforded a flexible work environment are known to have less stress, better health, greater ability to focus and a higher degree of job satisfaction. Such an arrangement also builds trust, mutual respect and loyalty between employers and employees, which has been proven to contribute to a more profitable, longer-lasting business across the board.
Simply put, happy employees = a better workforce. And those organizations adopting best practices for a flexible work setting experience measurable gains as a result of those efforts.
So why are company leaders still resistant to the flexible workforce concept?
In part, this is due to business leaders grappling with a desire to introduce flexibility into their processes but lacking a clear vision of what the actual implementation / execution of such a shift would look like.
Other leaders resist because they're not having the right conversations on the subject; they're saying no to progress because they don't fully understand the concepts and implications.
In order to make discernible advancements toward a more flexible workplace, an overall shift in mindset and context of conversations is critical, and organizational leaders must be given the tools they need to make more fully informed decisions on the matter.
Which brings us to this week's episode of LIVE!…

Our featured guest was Manar Morales, CEO of the Diversity & Flexibility Alliance — the nation's TOP THINK TANK on diversity, inclusion and workplace flexibility in the legal industry, corporate and beyond.
In this segment, Manar helped us take on these paramount topics for large corporations and small businesses alike:
Why flexible work arrangements are intrinsically linked to diverse workplaces;
How current social movements are driving demand inside of organizations for greater diversity;
How to make visible, lasting changes — even in industries largely considered inflexible and impossible to change.
Why is this topic important for consultants, coaches, trainers, speakers or service providers to organizations (or those who want to be)?
Because entrepreneurs must recognize that it really is possible to make a big impact in the corporate world as a small business owner, and to build a leveraged income, scalable business model as a small business owner serving the corporate world.
Regardless of the size of your business, you won't want to miss this conversation!
Watch this week's episode of LIVE! with Angelique Rewers below:
You can also catch the episode here on YouTube.

About Our Guest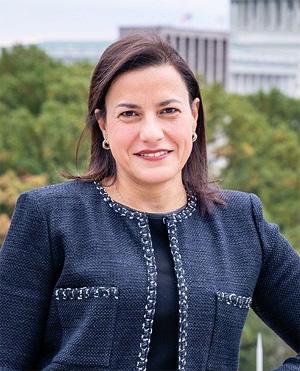 Manar Morales is a national thought leader on women's leadership, diversity, and workplace flexibility. She serves as President and CEO of the Diversity & Flexibility Alliance – a think tank dedicated to helping organizations create inclusive cultures that advance diversity and flexibility to attract and retain top talent.
Manar is a frequent speaker on workplace flexibility, diversity and inclusion, women's leadership, and individual strategies for success.


About LIVE! with Angelique Rewers
Every Wednesday @ 1PM ET / 10 AM PT, we are simulcasting LIVE interviews with courageous business leaders, entrepreneurs and self-employed experts who are driving visible, lasting change in the world.
Tune in each week for candid conversations, insider strategies, lessons from the trenches and, most of all, inspiration and insights to LEAD YOUR MOVEMENT™.
WANT TO JOIN US FOR THE LIVE EPISODES?
Here are more detailed instructions on how to watch the show LIVE…
TO WATCH THE SHOW ON LINKEDIN:
Make sure you follow my personal page on LinkedIn, as it is the best way to tune in to the show. We'll be broadcasting from my personal account and, when we go live, you can find the show at the top of my activity feed here.

OTHER WAYS TO WATCH:
Prefer a different platform? No problem. Our simulcast tech means this show is being broadcast on multiple streams at once…
Join our Get Corporate Clients group to watch on Facebook.


Subscribe to our YouTube channel to follow the show there.


On the go? We've you covered. Tune in to the LIVE! podcast!


We can be found on Spotify and Podcast Addict. Support for other popular platforms will be coming shortly. So stay tuned!
We'd love to hear your stories about courageous business leaders, entrepreneurs and self-employed experts you know who are dedicated to making profound improvement in the world.
Be sure to leave us a comment below.
Don't forget to share this article if you enjoyed it!