A big question we get here at
BoldHaus
— especially from consultants, coaches, and professional service providers who want to finally see some actual results come from all of their marketing efforts is…
How do I get my ideal prospects to take action?
Especially because I know they need what I offer!
As with anything, it's a layered answer — including focusing on what's URGENT to your prospects, not what you think should be important to them.
But today I want to share with you a part of your business development strategy that you may not have thought much about…
Fixing Your "Mushy Middle."
This is one of the key strategies I focused on during a session I co-presented last week with decision makers from AT&T, Kaiser Permanente, and San Jose Water.*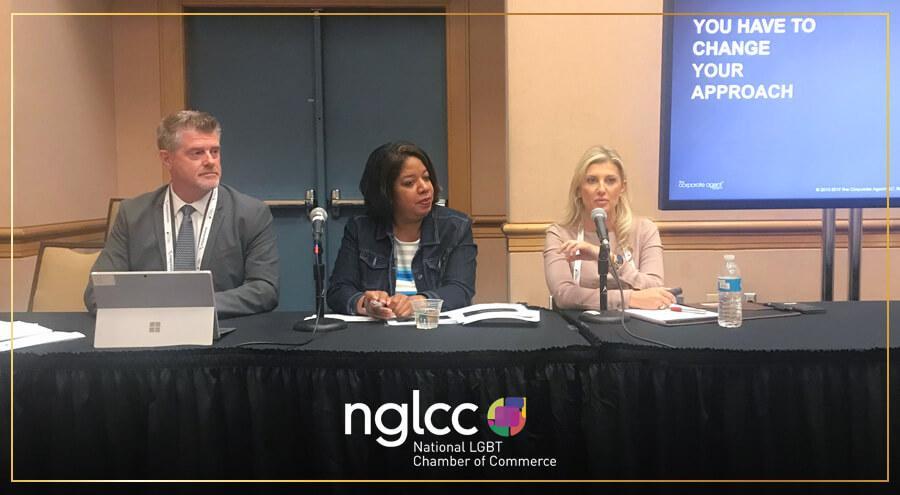 We presented the joint session at the 2019 NGLCC International Business & Leadership Conference, which is the largest LGBTQ business event on the planet.
The annual conference brings together more than 1,400 LGBTQ and allied business leaders from around the world, along with the Fortune 500 and other top organizations for a week of content, connections and celebrations.
So What In the World Do I Mean By the "Mushy Middle"?
The "mushy middle" is the part of your business development strategy you are more than likely overlooking.
It's all the stuff that happens in between your marketing efforts and actually getting to the "sales table" with a ready-now prospect.
Let's say, for example, you speak at a conference, and there are 100 corporate decision makers in the room. On a good day, there might be one or two of them who are a ready-now prospect.
A ready-now prospect is someone who not only has a problem you can help solve — but also has their ducks in a row, has decided to take action, and are in fact ready to take action now.
But for the remaining 90 plus decision makers who attended your talk, the timing won't be quite right for them to make a decision and take action now.
So, what do you do?
Well, here's the tired, ineffective, 3-part advice you typically hear:
Have a call to action.
Nurture. Nurture.
Just keep following up.
But how is that advice working?
On the whole, it's not.
In fact, one of the biggest laugh-out-loud moments by my fellow presenters from Kaiser Permanente and San Jose Water was when I mentioned that actually no, busy decision makers do not have time for all those blog articles, e-mail newsletters, podcasts, etc., that everyone is spending so much time creating.
The problem with this tired advice is so much more than just wasted time and unread content.
The real problem with the above advice is that it completely disempowers you and your ability to proactively create new client opportunities.
Further, you are not only resigned to what amounts to a "pestering" strategy, but you also rob yourself of the opportunity to open up a dialogue with your prospects.
That makes you dead in the water. Because, unless you can learn what's going on for your prospects, you don't know if you can help, when you can help, or how you can help.
So what's the answer?
The answer is what we call The Bridge Strategy™.
What's a Bridge Strategy™?
A Bridge Strategy™ is a business development technique that's specifically designed to create a valid reason for high-quality, value-added, two-way conversations with your prospects during that "Mushy Middle" phase.
Specifically, a Bridge Strategy:
Gives you time and opportunity to build credibility and rapport, even if the prospect doesn't think they need help with anything right now.
Provides immediately relevant value to your prospect (such as insights they wouldn't otherwise have).
Begins to illuminate the prospect's biggest priority and/or biggest problem — that maybe they haven't thought much about.
Helps to build internal consensus around a business problem.
To reiterate, we aren't talking about content that you shoot over to them in an email. In fact, this is not about them reading anything at all. Rather, this is about you actually getting a meeting — either in person or via phone, Skype, Zoom, etc.
There are 13 specific Bridges that we teach our clients how to use, and you can be as creative with them as you want to be.
An Example of a Powerful Bridge Strategy
Here's a great example. It's one of the best techniques that I saw used when I was on the other side of the buying table in the corporate space. An IT company offered to do a walking inspection of one of our tech sites to spot potential vulnerabilities from floods or other natural disasters.
They offered to do this right after a major hurricane had struck the U.S., and a lot of their clients had experienced costly losses.
What was interesting is that this was NOT the IT company's core offering. In other words, they were not what's called a "business continuity" consulting firm.
But they did know that this particular offer would be highly valuable to their target clients — all of whom were all in the midst of asking themselves, "What do we need to be worried about? What if a hurricane happened to us?"
And listen — if you're a one-person coach or a consultant, I'm not suggesting you have time to fly all over the country (or the world, for that matter) to do walking assessments. But perhaps there is something that you can do for your target prospects — especially at particular times of the year — that would open up conversations with people in ways you never imagined.
Remember: The key is purposefully manufacturing a valid reason for the prospect to want to have a conversation with you — specifically when they DO NOT feel they are ready OR have a need to talk with an outside expert.
Does it take a little work? Sure it does. But no more than the hours upon hours you're spending writing content, or figuring out what to post on social media, which is likely providing an anemic return on your investment.
Closing Thoughts
When you are selling to B2B clients, the all-encompassing goal of your marketing is to create as many conversations as possible with real decision makers. Conversations are what create cash flow in your business.
But if you are ignoring the space between when you get visibility with a decision maker to when you land a meeting with them as a "ready now" prospect — and are relying on nurturing them with content that busy decision makers don't have time to read — then you are leaving a tremendous amount of opportunity on the table. The time is now to create a go-to Bridge Strategy that you can use over and over again to consistently land meetings.
If you need help with this, or any other part of your business development strategy, reach out to our team to schedule a call.
(*Note: Sadly, our co-presenter from AT&T was not able to join us at the last minute due to a death in the immediate family. However, her thoughts and ideas were incorporated into our content, and are also represented here in this article. Therefore, I would be remiss not to recognize AT&T's participation.)